6 comments November 5th, 2005at 06:56pm Posted by Eli
And here is some of my three-dimensional loot, with special emphasis on the Full Moon figurines I purchased in my bid to become an executive producer.

The Blade and The Tunneler, from the Puppet Master movies.

The Killer Pimp from Blood Dolls. Feather, knife, and Pimp Sceptre are all removable. Not sure about the cow-pattern platform shoes…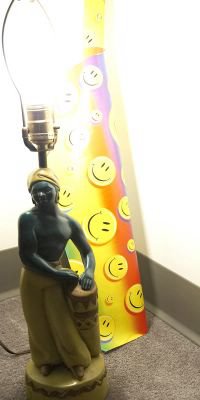 It's, um, the lamp in my bedroom. And some happy wrapping paper. Mrs. Lamp is in the living room.

Entry Filed under: Movies,Photoblogging,Weirdness