5 comments September 10th, 2006at 09:56am Posted by Eli
Lucky me, I hit the trifecta!
Markos of Daily Kos came to Pittsburgh to promote his and Jerome's book, Crashing The Gate, and was gracious enough to come out to Drinking Liberally with some of us afterward. Alas, the venue (Claddagh's Irish Pub at the South Side Works) was a bit loud, and I had trouble hearing anything he said, despite being only two seats away. The food was good, though – I had an "Irish Monte Cristo," which was like a cross between a ham-and-cheese melt and… french toast, complete with powdered sugar. And bramble jelly to dip it in. I also discovered that malt vinegar is very tasty on fries (chips?).
I didn't really get to talk to Markos much, but we did talk about the media a bit, and he seems, well, naively optimistic on the subject. He believes that the media spouts right-wing talking points because they don't have time to do their homework, and the Republicans helpfully spoon-feed them with what to say, and because they have to "balance" every Democrat telling the truth with a Republican telling lies. And if we just keep pointing out every time they screw up, they'll be motivated to do better.
I wish it were that simple to effect change in the media, but I think there's a pro-Republican institutional imperative coming from the corporate parent level, and as long as that's the case I think we're only going to be able to make changes at the margins. Until I see what Atrios calls "zombie lies" (because they can't be killed no matter how many times they're debunked) go away, and reporting that consistently includes salient details like the 72-hour grace period to get retroactive warrants for wiretapping under FISA, I'm not going to hold out a whole lot of hope. And this is a Big Big Deal, because for a lot of people, whatever the teevee tells them is Reality.
Kos talked a lot about building up institutions and leaders and thinkers and pundits and TV talking heads, and the value of viral and/or online information as an alternative to traditional media (he used the internet popularity of Stephen Colbert at the correspondents' dinner as an example) but until Democrats can somehow counter, repair, or discredit the corporate media, they're always going to be at a profound competitive disadvantage.
He also pointed out that it took time for the conservatives to build up a dominant movement, and he doesn't expect to see progressive movement-building really pay off until 2016. I don't think this is unreasonable; I just hope there are still elections to win by then.
Oh, and I have pictures: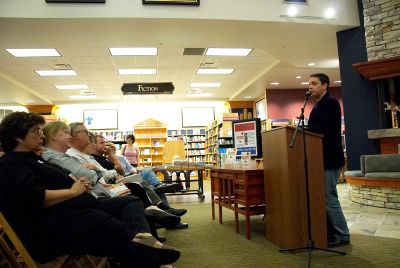 The power of Kos compels you!

Kos is positively giddy at the prospect of Drinking Liberally with us.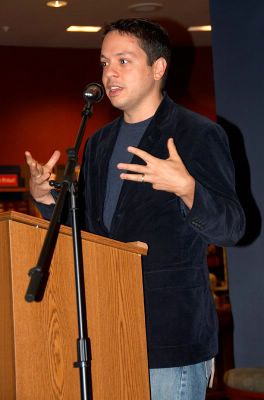 Kos hopes the Democrats will pick up huge tracts o'… congressional seats.

More Kos talking. It was torn between this one and the one where he looks like Ferris Bueller.
Spork has more pics. Ol' Froth has some pics as well. Also 2 Political Junkies.
Entry Filed under: Favorites,Media,People,Photoblogging,Pittsburgh,Politics,Rabid Lambs