February 19th, 2008at 09:36pm Posted by Eli
Gallup asked an interesting question for President's Day:
Suppose you could bring back any of the U.S. presidents, living or dead, to be the next president of the United States. Who would you most want to be the next president?
Me personally, I think FDR would be perfect for the situation in which we find ourselves – he inherited a United States in the direst possible straits, and he fixed it. He actually won his (just and necessary) war, and used it to grow the economy instead of destroying it. He also created much of the social safety net that the Republicans have done so much to erode. And perhaps most importantly of all, he was fearless and tough, and refused to be intimidated by his enemies.
Yes, I think FDR is exactly what we need now. Does America agree? Er, not so much…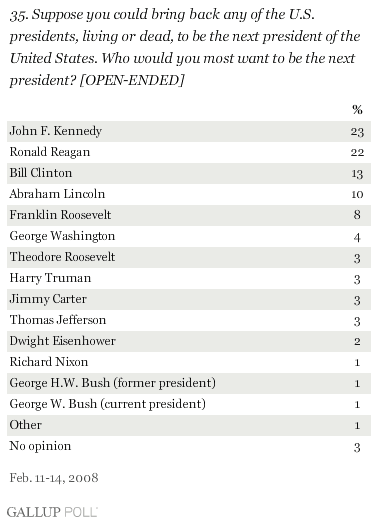 JFK? Really? I guess I can see the reasoning behind that, and of course the Republicans luuurrrve their Reagans, but I'm really surprised FDR didn't get more respect here. I suppose I should just be heartened that outright evil people only got 25% of the total…
(h/t to The All-Seeing Eye Of Froomkin)
Entry Filed under: Polls